Description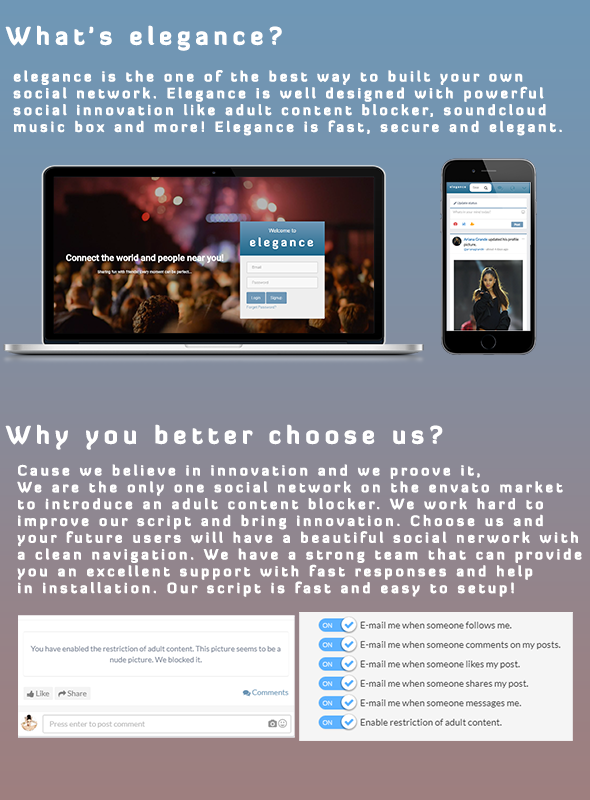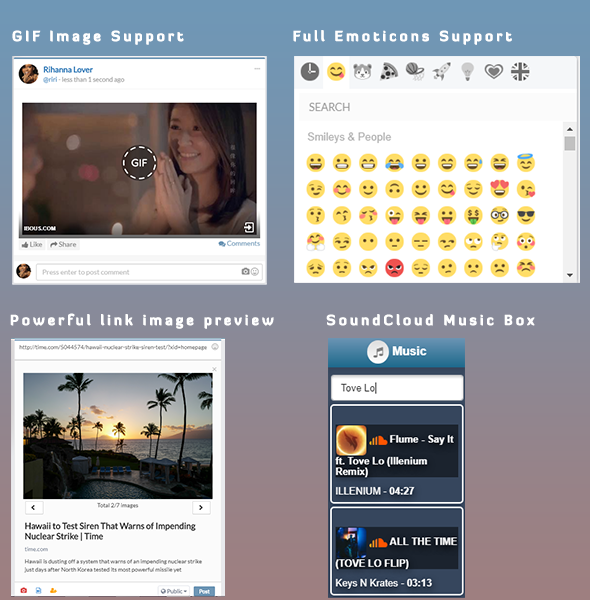 Try our Online Demo
Demo 1: Username: demo / Password: 12345678
Demo 2: Username: demo2 / Password: 12345678
Demo 3: Username: brice / Password: 12345678
Or you can now create an account for testing!
Try our Admin Demo
Email: roodaffair@gmail.com / Password: 12345678
User Features
User can enable adult content blocker for block nude picture.
Support GIF picture.
User can share link with preview image link.(Powerful preview link).
User can like,share, comment posts, photos, videos.
Home/News Feed: Displays Posts, Photos and Videos posted by followed people, follow suggestions, and user activities list.
User Timeline: Displays user's profile with Posts, Photos shared by user.
Social Videos Support: User can easily share videos from the biggest videos sharing websites like Youtube, Dailymotion, Vimeo, Metacafe & Soundcloud music
Cover Picture: Dynamic Cover for users, Replace cover option.
Profile Picture: Dynamic profile picture for users.
User Profile Info: Displays user's profile information (birthday, gender, about, etc).
Notifications: Receive notification from users (likes, comments, shares .. etc)
#Hashtags: Displays trending and related topics shared by users.
@Mentions: Use @username to tag people in a status or messages.
Post Publisher: Status, Sound cloud, YouTube, Photos and emoticons.
Delete & Edit Posts: User can delete and edit his own posts.
Save Posts: User can save posts to view them later.
Recent Search: What ever the user was looking for, all will be saved into recent searches.
Post Privacy: User can choose the post privacy (Only me, Everyone.. etc)
Live Chat: Real-time live chat system, (online, offline) status.
Messages: Send and receive private messages.
Activities: Displays user's latest activities (post,likes, shares,comments)
Fully responsive for all devices, browsers.
Password recovery by email.
Emoticons.
SoundCloud Music Box.
and much more…
Admin Panel Features:
Admin Dashboard: statics analyzing the site information.
General Site settings: Update general settings, Update site settings like name,title,logo, image, privacy policy.. etc ..
Website ads: Create your own ads or display google adsense ads.
Manage Users: View, edit, block, delete users.
Manage Posts: View, delete posts.
Website SEO : Optimize your website.
Google analytics: Add, edit your Google analytics code.
and so much more…
Requirements:
PHP 5.5 or Higher.
PDO.
cURL.
Updates
Update V1.1.0 [ 27 January 2018 ]
Improved design.
Fixed some minor bugs.
Some code blocks have been improved.