Description
If you encounter a problem when trying to upload a file of large size,
Make a copy of the file ".user.ini" and paste it to the root of your site. (httpdocs, www, ……)
Overview
PayPal Digital Downloads is a script that allows you to sell digital products directly on your website. With this script you don't have to install complicated shopping carts and create their design to match your website. PayPal Digital Downloads is the easiest and perfect way to distribute digital products for download and monetize website.
Informations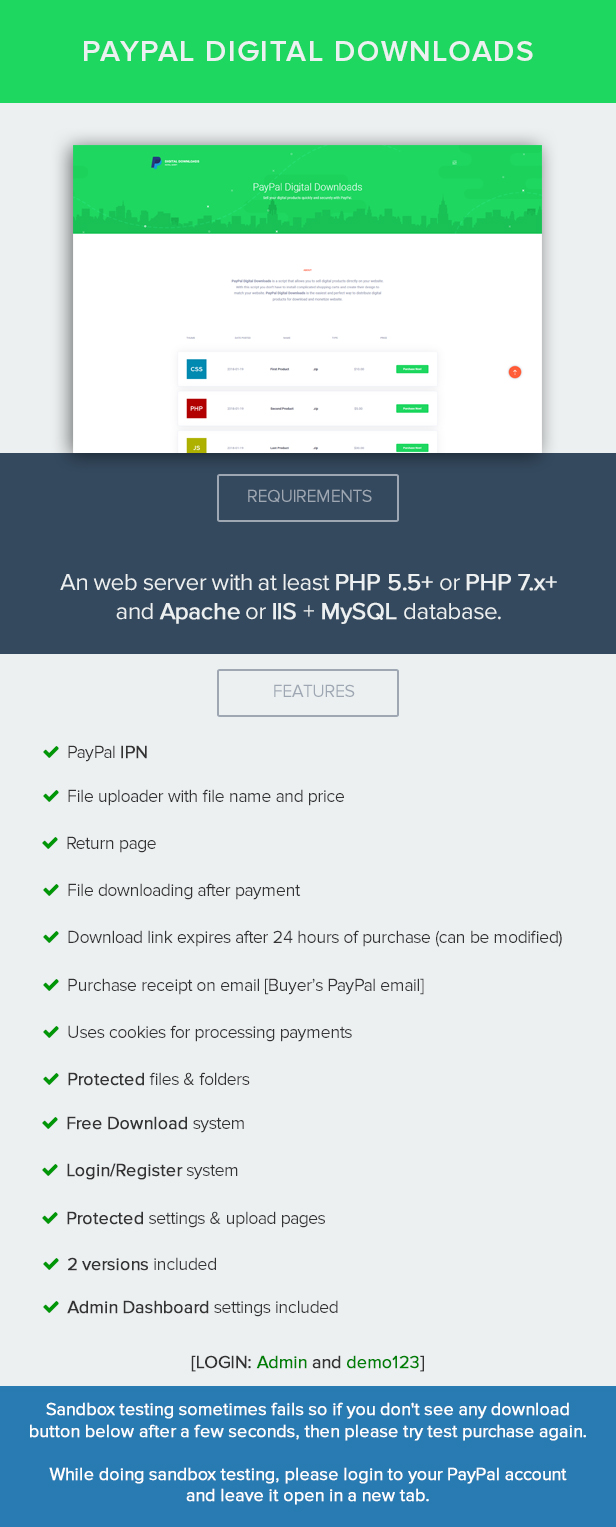 Preview of the Simple Version
UPDATES
Update 1.4 – 2018-04-11

- Updated to the latest version the PayPal REST API (2018) scripts.
- Add DataTables scripts.
- Fixed bugs.
- Add Roles for Users.
- Projects converted from MySQLi to POO (PDO) PHP 7+ (and PHP 5.5+)

Update 1.3 – 2018-02-02

- Improved Simple version.
- Migration on Bootstrap v4.
- Added Feather icons.
- Updated Font Awesome to the latest version 5.0.6.

Update 1.2 – 2018-01-31

- Improved Simple version.
- Fixed bugs with Free Download files.
- Replacement of the modal by a page dedicated to the free download of the file.
- Added URL Rewriting for the free download page.
- Improvements to the upload and home pages.

Update 1.1 – 2018-01-21

- Improved Modern & Simple versions.
- Added Thumbnail image preview.
- Added security for folders & files.
- Added Login/Register system.
- Added protected settings & (improved) upload pages.
- Added Free Download system.
- Improved transactions log (now visible on the settings page).
- Added the possibility to delete an item.
- Added the possibility to change PayPal Mode [Test/Live] on the settings page.