Description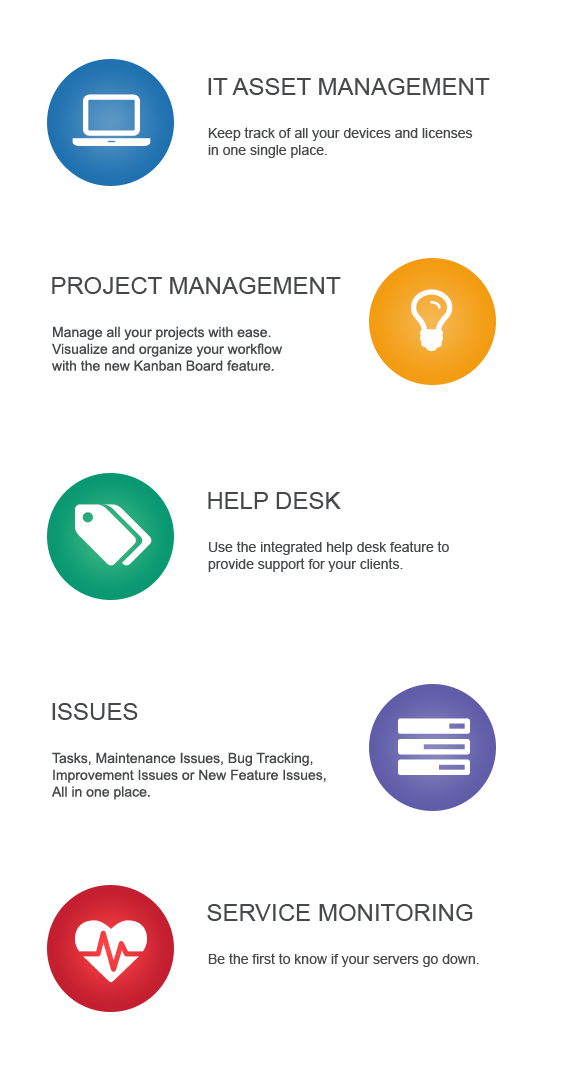 onTrack enables you to inventory hardware assets and licenses for your clients, get your projects organized, provide support through tickets and track and organize your work with issues.
onTrack comes fully featured with network service monitoring, credentials manager, kanban project management, reports, user panel and many more features.
MAIN FEATURES
Dashboard
Overview of your activity including active tickets, assigned issues, recent assets and licenses.
Clients
Easily manage all client's data in one single page.
Assets
Keep track of all the hardware you manage.
Licenses
Keep track of all the licenses you manage.
Projects
Easy to use project management feature.
Visualize and organize your work with ease with the new Kanban board feature.
Tickets
Use the integrated help desk feature to provide support for your clients.
Ticket Auto-import from any email account.
Ticket Auto-association to users, clients and assets.
Use Escalation Rules to escalate tickets if they are not resolved within a certain period of time.
Issues
Easily track and plan all your work through issues.
Tasks, Maintenance Issues, Bug Tracking, Improvement Issues or New Feature Issues, all in one place.
Assign issues to other team members.
Associate issues to other objects in the system like clients, assets or projects.
Monitoring
Be the first to know if your servers go down.
Network service monitoring with email and SMS alerts.
Reports
Generate timesheet like reports for your clients with all logged work and time.
Credential Manager
Easily manage all your credentials.
Assign credentials to assets and/or clients.
Have you ever wanted to work on a server or router but can not remember or find the password? Use onTrack integrated Credential Manager to store all your passwords in one place.
User Portal
Easy to use user portal.
Your users/clients can view their inventory, view work progress, send tickets or issues and much more.
File Storage
Keep all your files in one place.
Upload files related to clients, assets or projects.
Multi Language Support
System can be easily translated to any language.
Customizable
Multiple themes to select from and customizable layout.
Easy Installation, Gravatar support, Email & SMS Notifications, Kanban Project Management, Ticket Escalation Rules and many more…
TESTIMONIALS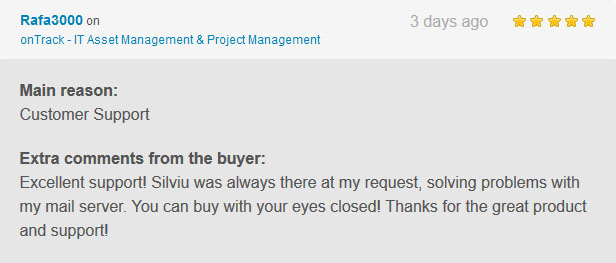 REQUIREMENTS
To run onTrack your hosting server must support the following:
PHP version 5.4 or greater;
MySQL version 5.5 or greater;
PHP PDO MYSQL extension;
PHP MCRYPT extension;
PHP IMAP extension (for tickets autoimport);
PHP FSOCKOPEN extension (for service monitoring);
Cronjobs (for automated tasks like email ticket and service monitoring).
CHANGELOG
Version 1.16 (28 December, 2018)

- Security fix
- Bug fixes

Version 1.15 (5 October, 2018)

- Bug fixes

Version 1.14 (9 September, 2018)

- Fixed a bug that when trying to add user or staff account resulted in error

Version 1.13 (5 September, 2018)

- Added rich text editor for Issues
- Credentials are now encrypted with OpenSSL (replacing the deprecated Mcrypt library)
- Custom Asset fields
- Custom License fields
- License Seats
- Ability to print labels with QR code for assets and licenses
- Import Assets and Licenses using CSV
- API
- Initial support for LDAP/AD authentication
- Bug fixes

Version 1.11 (30 January, 2018)

- Improved project management interface
- Milestones for Projects
- Tickets can now be assigned to a Project
- Time spent input for tickets and issues is now disabled
- Time tracking is now achieved with the Time Log feature
- All previous time spent entries will be automatically added to the time log during upgrade
- New issue status: In Review
- Credentials can now also be added in the new Credentials section
- Improved forms for Issues, Tickets and Credentials
- Phone, Web Address & Address fields for Contacts
- Improved Reports
- Public ticket submission form with reCAPTCHA
- Updated theme and other components to latest versions
- Automatically assign department to ticket based on email address
- Ability to preview attached images
- Bug fixes

Version 1.9 (20 July, 2017)

- Predefined replies are now inserted correctly
- Fixed ticket CC Recipients editing
- Fixed escalation rules date format
- Added password generator when adding users or staff accounts
- Ticket import bug fixes
- Added email piping support

Version 1.8 (8 June, 2017)

- Updated theme and other components to latest version
- UI improvements
- Date format can now be changed
- Inline attachments are now saved when importing ticket from email
- Ticket notifications contain now the attachments (if any)
- Time tracking for tickets
- Ticket notifications added new variables
- Variables for notifications are now listed when editing the template
- Bug fixes

Version 1.7 (16 December, 2016)

- Rijndael 256-bit CBC Encryption for credentials and license keys
- Support for ticket departments
- NTLM Auth support for tickets autoimport
- Tickets Improvements
- Bug fixes

Version 1.6 (22 August, 2016)

- Knowledge Base
- Predefined replies for tickets
- Ability to attach files to ticket replies
- Multiple file upload
- New fields for Assets
- While adding/editing an asset, attributes can now be added on the fly
- Data export to clipboard/csv/excel/pdf/print
- Bug fixes

Version 1.5 (21 July, 2016)

- Major codebase rewrite
- Several bug fixes
- Added new Issue type: Story
- Tickets notifications: added {status} variable
- Added the ability to upload profile picture (in addition to Gravatar support)

Version 1.4 (11 Apr, 2016)

- Users/Staff roles
- Ticket escalation rules (general and per ticket)
- Ability to add CC addresses for tickets
- Added contact info for suppliers
- Masked password input fields in system configuration
- Admins section renamed to Staff

Version 1.2 (13 Mar, 2016)

- Multi-language support
- Comments support for projects and tickets
- Admin notifications for new tickets and new ticket replies
- Autorefresh in tickets lists, dashboard and monitoring
- Active, Awaiting Reply and All Tickets views
- Active and All Issues views
- Password generator for credential manager
- Copy to Clipboard for credential manager
- Passwords in credential manager are masked (click to view)
- Get ticket priority from emails marked important
- Attachments are now imported when fetching tickets from email
- Improved system logging
- Bug fixes
- UI improvements

Version 1.1 (14 Feb, 2016)

- Project Management with Kanban board;
- File storage for clients, assets & projects;
- UI improvements;
- Bug fixes

Version 1.0 (4 Feb, 2016)
* Initial Release