Description
PayPro is a digital download payment gateway. Start a business simply by creating your own download payment gateway and offer Stripe, Paypal, Bitcoin, Litecoin and Dogecoin as an option. Receive a percentage of each product sold using your very own PayPro gateway by charging a gateway fee in the admin panel.
Anyone can register and create their products to be sold online. Upload products with ease, share your product page to get sales and accept PayPal, Bitcoin, Litecoin, Dogecoin and Stripe!
The product seller receives their income directly via PayPal and their selected crypto currencies. Easily create your product page with an amazing custom wysiwyg editor.
In the demo stripe is set to test mode. You can submit a test payment via "Pay with Card" on a product page. Use this credit card number to test: 4242 4242 4242 4242, a valid expiry date and any CVC code. If you enter a valid email, the download/code will be sent to you! Make sure to check your spam folder.
Example of Product Page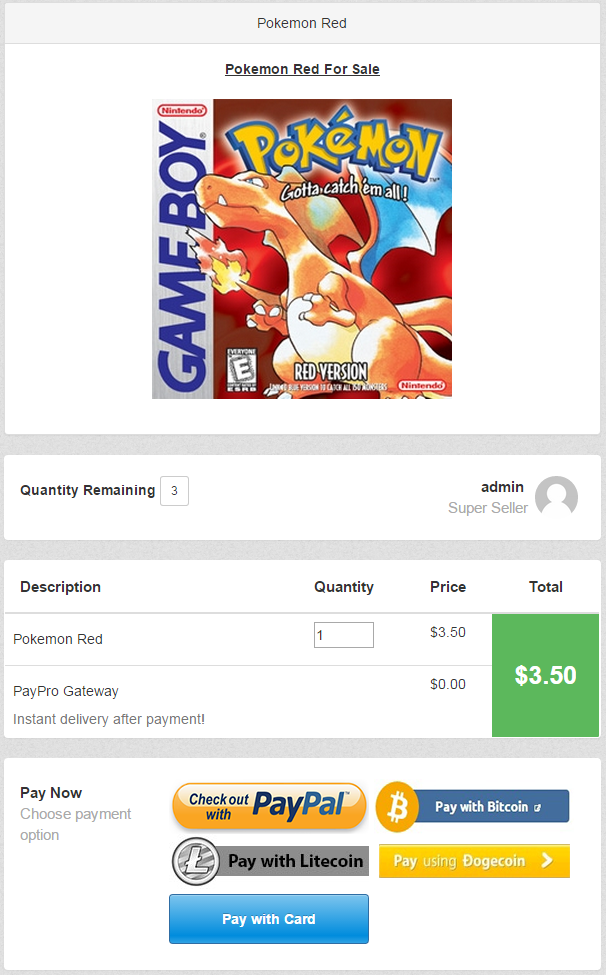 Notable Features
Accept Bitcoin, Litecoin, Dogecoin, Stripe and PayPal
Made with CodeIgniter PHP Framework
Admin Panel
Billing Central
Crafted with Twitter Bootstrap
Upload .zip digital products
Coupon Codes
Custom Product Pages
Easy to Configure
Help files included
Make Money!
Utilizes CoinPayments Gateway
Custom IPNs included
Review recent transactions
User dashboard
Total and daily product sales
Infinite Products can be added
IE, Chrome and Firefox all supported
Bitcoin, Litecoin Dogecoin supported
DropZone.js Upload Feature
Front End Included!
Coming Soon Features
Admin Panel – ADDED!
Coupon codes – ADDED!
Serial Codes – ADDED!
Stripe Payment Gateway – ADDED!
Front End – ADDED!
DirectURLS – ADDED!
Help desk ticket system
Multi-language support
Affiliate Program
Account Products Page – ADDED!
Billing Central – ADDED!
Login Captcha
Product Approval
Other Features requested by you!
Support
If you have any questions at all please email me at support@blueforgemedia.com or leave a comment. You may also visit the forums here.
Changelog
Billing added, payment options settings. v1.3.0 (07/12/2015)
Coupon Codes added. v1.2.5 (07/08/2015)
Added all products page to showcase all products. Bug fixes. v1.2.4 (07/07/2015)
Some bug fixes. Success page added. v1.2.3 (07/06/2015)
Fixed bad/wrong password when logging in. v1.2.2 (07/05/2015)
User Management added to admin panel. Minor big fixes. v1.2.0 (07/04/2015)
Implemented Front End. Minor big fixes. v1.1.9 (07/03/2015)
Added Website Logo URL to admin panel. Minor big fixes. v1.1.7 (07/02/2015)
Admin Panel added. Minor big fixes. v1.1.5 (07/02/2015)
Implemented Dropzone.js upload system. MAX_UPLOAD_SIZE added. Bug fixes. v1.1.3 (06/29/2015)
Stripe Payment Gateway implemented, Code/Serials and Direct URL types added. Bug Fixes. v1.1.1 (06/28/2015)
Minor Bug Fixes, subdomain/subdirectory support added v1.0.1 (06/27/2015)
Initial Release v1.0 (06/26/2015)