Description
I'm happy introduce to you PaidVids, a new system which let you create your own YouTube Views based website. Using this system, you can start earning money by selling YouTube Views, at the moment this being a niche with much potential and doesn't require too much investments or time.
What do I get?
You will receive a complete YouTube Views system, as shown on demo. All you have to do is to install and configure it and then you have a ready made YouTube based bussiness, ready to be promoted world wide (or maybe locally, is your choice).
Why use PaidVids script?
Our script is both simple to use & advanced in features, ready made to start your own YouTube Views generator platform (no bots, not tricks, all real).
Admin Panel Demo
Panel: Click Here
Username: Admin
Password: paidvids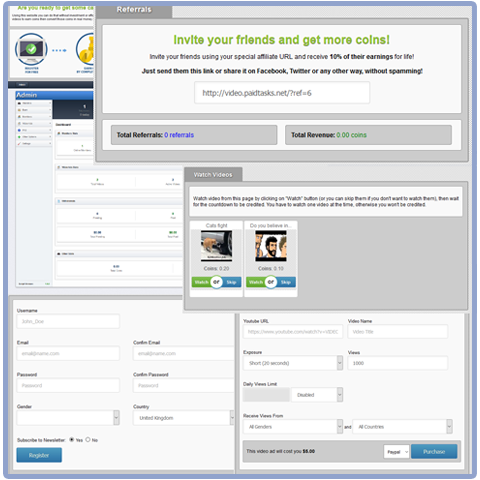 Features:
Bootstrap 4 Responsive Design
Complete admin panel

Dashboard with stats
Manage website settings
Manage members
Manage videos, exposure packs and more

Multi language system
PayPal, Payza and Bank Transfer payment gateways
Google Captcha & SolveMedia Captcha integrated
Automated proccess to add videos and make payments
Referral system integrated
Virtual Currency (coins) system integrated

User earn coins by watching videos provided by advertisers
Coins collected by user can be converted in real money (you will have to pay them)

Very well optimised to keep server usage to minimum
100% Viewable Source Code

+ Many more features…
Changelog:
v2.0.0:

Bootstrap 4 responsive design
New template system (more templates will be available)
System recoded and improved
Security improvements
Performance improved
Several bugs fixed

v1.0.5:

Some bugs were fixed and some improvements applied

v1.0.4:

Multi language system was added (English and Romanian available)
Few design improvements
Few minor bugs were fixed

v1.0.3:

Bank payment gateway was added
Few design improvements
Few minor bugs were fixed

v1.0.2:

Few bugs fixed and some security improvements

v1.0.0:
Do you like this system but you want something more? Then you will love PaidTasks – GPT System, now with Bootstrap 4 Responsive Design!