Description
Realtime Cryptocurrency Market Capitalization – VIEW DEMO
With Crypto Net PHP Script, you can create a fully automated cryptocurrency website in 5 minutes which display the realtime cryptocurrency coins market overview, live prices, market cap, available supply, historical data in charts and 24 hours volume & changes for more than 1500+ crypto coins. Also along with this, you can display the Top 25 cryptocurrency price ticker in the footer. You can choose from 5 pre-built color schemes.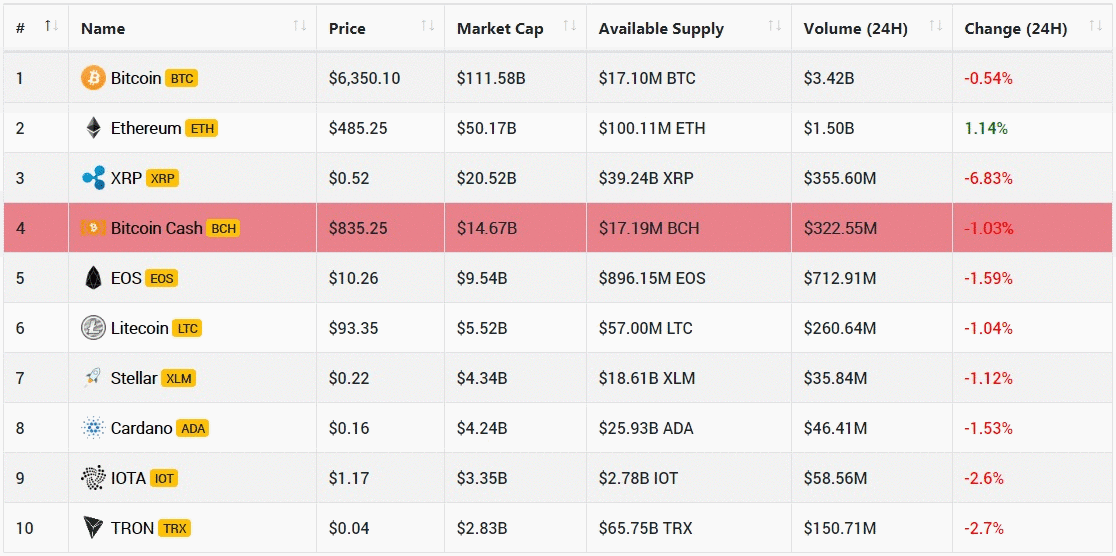 Auto Generated Crypto Currency Coin Page With Historical Data Price Chart – VIEW DEMO
1500+ crypto coin pages are automatically generated along with unique SEO meta title and description tags with Crypto Net PHP Script. Each crypto coin page shows the Live price, market overview, market cap and historical data in chart display. Also, donation box is shown on each page of the website to accept donation. You can set affiliate link from the admin panel in the coin page Buy/Sell button links.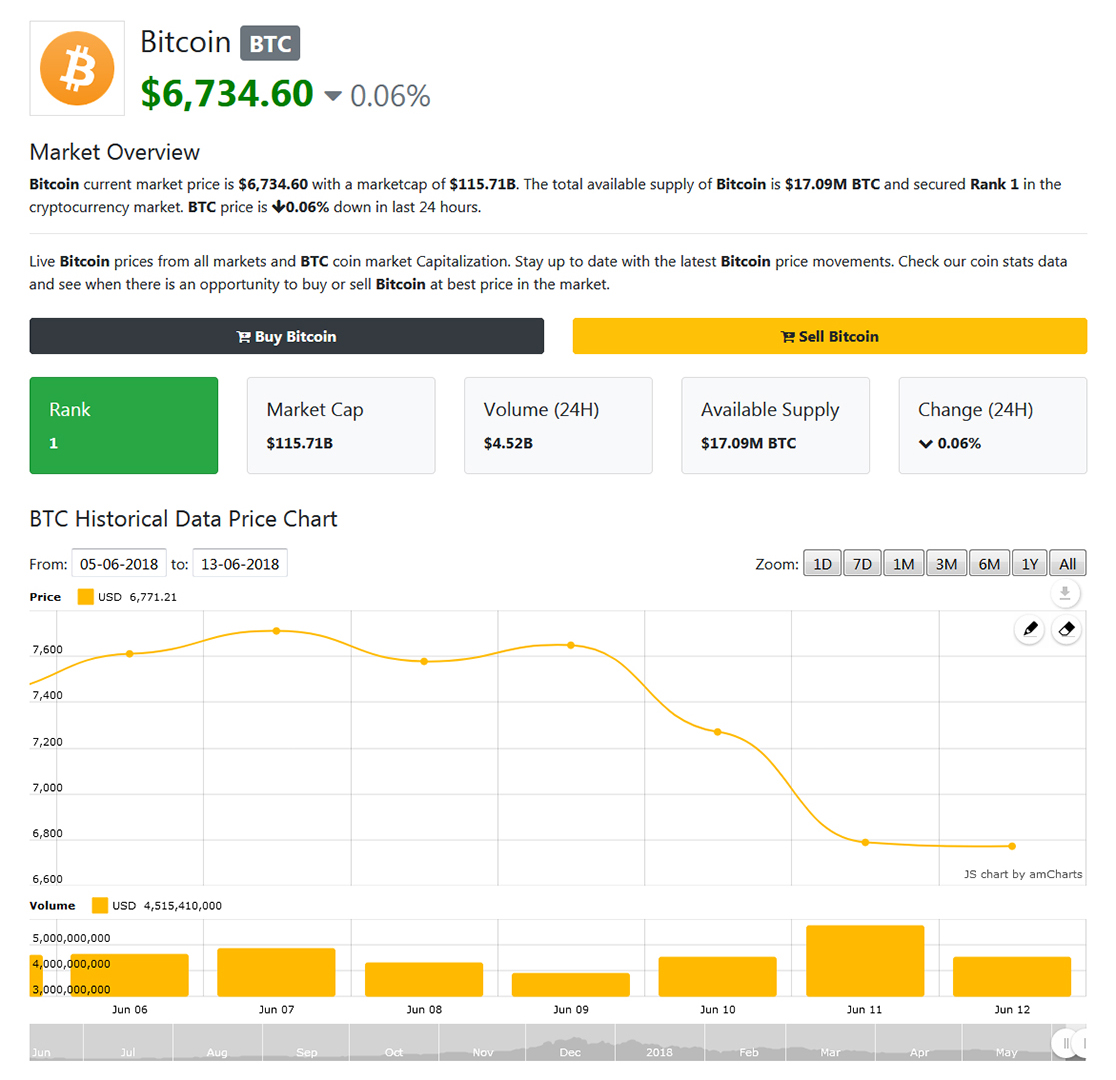 Website Footer & Cryptocurrency Price Ticker – VIEW DEMO
The footer of the website shows Call to Action section along with Top 5 Gainer Coins, Top 5 Rank Coins and Top 5 Looser coins in the footer section. You can show or hide the price ticker in the footer from the admin panel. Price ticker shows the Top 25 Crypto currencies with coin price and 24 hour change.

5 Pre Built Colour Schemes to Choose From
Corona Net PHP script have 5 pre built colour schemes. You can simple choose the colour scheme from the admin panel.
CryptoNet PHP Script Features List – VIEW DEMO
Fully Automated: The CryptoNet PHP script is fully automated. After the 2 Click installation, you have fully up website running as our demo.
5 Color Scheme: You can choose from the 5 pre-built color schemes Yellow & Black, Dark Blue & Light Green, Red & Black, Bright Grey & Dark Navy, and Soft Navy & Bright Cyan from the admin panel.
Live Price Updates: Realtime Live prices updates for each crypto coin in the website.
Coin Page: Auto generated coin page for more than 1500+ coins which display coin market cap along with chart.
Chart Data: Historical data in chart for each crypto currency coin page.
Top Gainer & Looser Coins: Top 50 Gainer and Looser coin pages are automatically created and they shows realtime data of top gainer and looser coins.
Ads Area: You can add Ads in the Header and Footer of the Cryptocurrency listing area. Easily show or hide ads with preference option you select.
SEO Optimized: You can easily add Google Analytics Tracking code and Google, Bing verification Meta tags to verify site ownership. You can set Meta Title and Description tags for each page of the website.
Accept Donations: Accept donations from your website in Cryptocurrency. You can accept donations in 4 types of Cryptocurrency which is fully editable from the admin area. You can edit Currency Name, Currency Logo, Coin Address.
Call To Action: Fully editable Call to Action area in the Footer section. Set your own button text and link.
Footer: Footer section is fully automated which shows Top 5 Gainer, Top 5 Rank and Top 5 looser coins data.
Price Ticker: Easily show/hide price ticker in the footer.
Contact Page: The entries which user fills on the contact us page is automatically submitted to your admin area. You can change Address, Phone, Email and Social media links.
Content Pages: There are 3 CMS Pages in the header Navigation and 3 CMS Pages are in the Footer Navigation. You can change the Title and Description of the CMS pages as per your requirement along with SEO meta title and description tags. You can Deactivate the extra pages from the admin area.
Fully Responsive: The website is fully responsive and works well on Laptop, desktop, mobiles, tablets.
Easy to Install: Get the website running within minutes with our 2 click installation process.
Powerful Admin Panel: Manage almost everything from our powerful admin panel area.
GDPR Compliance: There is a consent box in the website and in the contact us page form. The user must accept consent before submitting the form & using the website and all the contact entries you can see from the backend. As per GDPR, if a user want to request or delete personal information then you can easily access or delete the contact form queries from the admin area.
Front End & Admin Panel Demo
You can visit our CryptoNet PHP Script Front end demo here: https://cryptonet.techjindal.com/
You can visit our CryptoNet PHP Script admin panel demo here: https://cryptonet.techjindal.com/admin
Login Credentials
Email: cryptonet@techjindal.com
Password: asdf1234
Online Documentation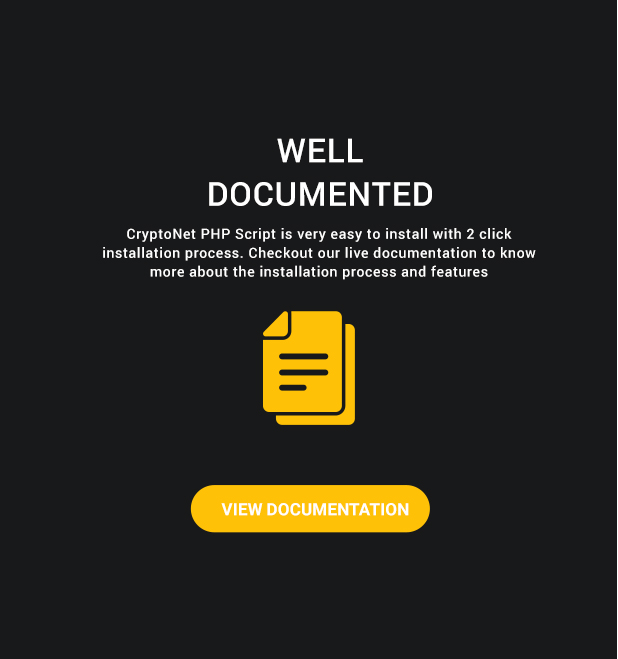 Server Requirements & Installation Guide
Please check server requirements and installation guide here: View Server Requirement & Installation Guide
How to Update
Please check how to update guide here: View How To Update Crypto Net
CHANGELOG
Version 2.1 | April 16, 2020

- 4 Color Schemes Added
- New Coin Images Added
- Minor CSS Improvements
- Minor Code Improvements

Version 2.0 | August 14, 2019

- API Version 2 Updated
- Minor CSS fixes
- Other Minor Improvements

Version 1.3.1 | March 20, 2019

- New Coin Images Added
- Problem Solved in Step 2 While Installing CryptoNet
- Other Minor Improvements

Version 1.3 | August 17, 2018

- Https Issue Fixed
- New Color Scheme Blue and White Added
- Option to Show/Hide GDPR consent
- Other Minor Improvements

Version 1.2 | July 11, 2018

- Donation box admin panel image updation issue fixed
- Added Total Market Cap, Total Number of Coins, Bitcoin and Altcoins Total Market Cap in Top Header Area with an option of Show/Hide from the Admin Panel
- New Coin Images Added
- Other Minor Improvements

Version 1.1 | June 28, 2018

- Minor Improvements

Version 1.0 | June 26, 2018

- Initial CryptoNet PHP Script Release
- CryptoNet PHP Script Approved by Envato