Description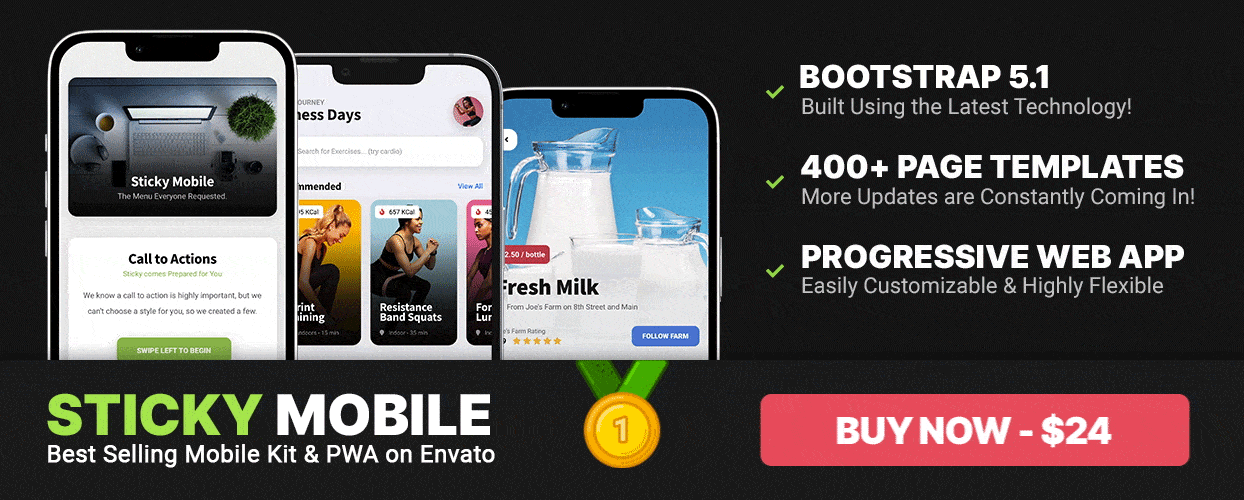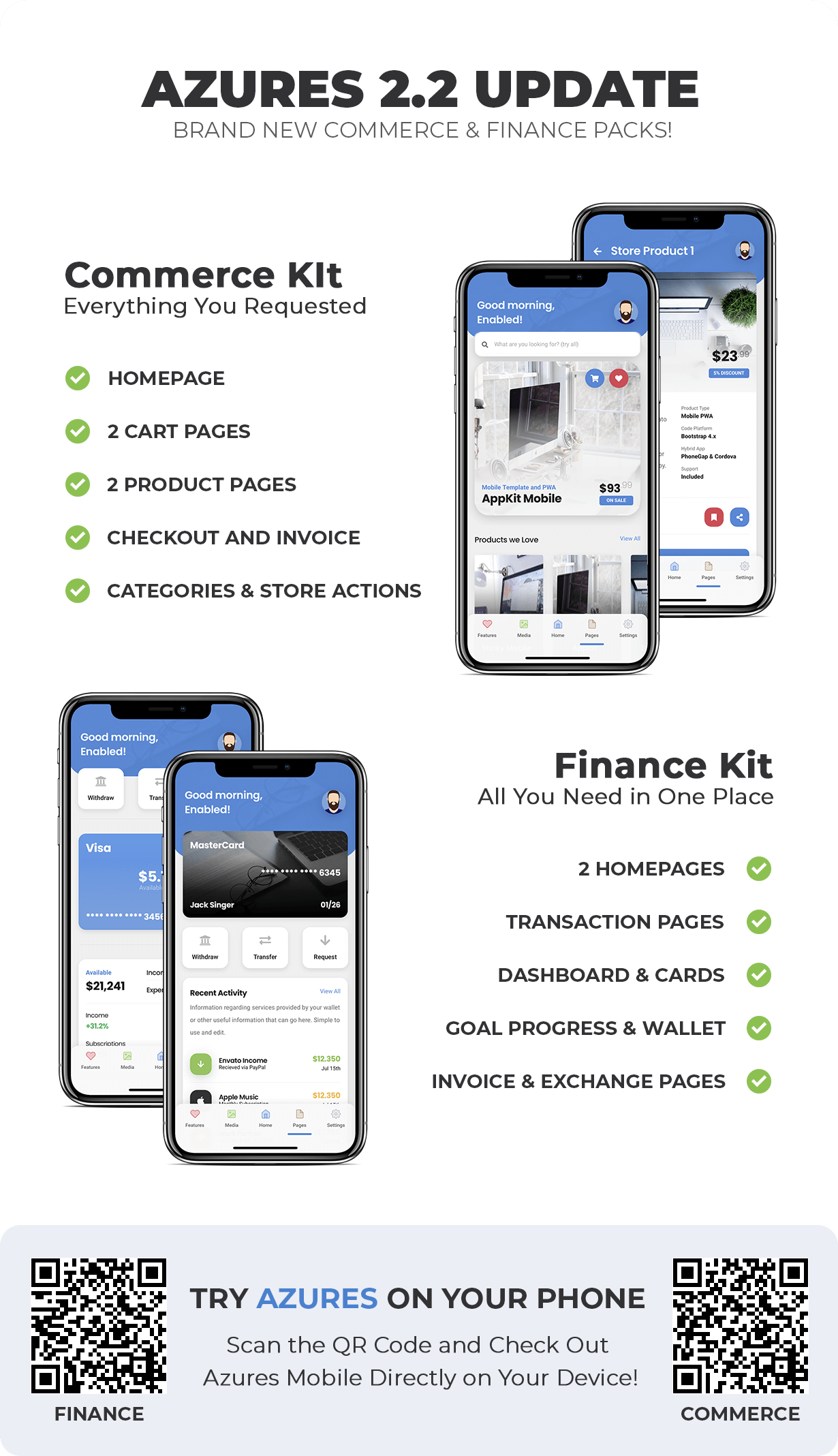 Azures is a Mobile Site Template & PWA Powered by Bootstrap 4
The perfect Mobile Kit for your next Project. PWA ready for the latest web trends and powered by Bootstrap with a familiar and easy to use code. Azures is designed to look stunning on your Mobile Device, making it friendly for both iOS and Android devices.
Powerful & Easy to Use
Azures is incredibly powerful, running on reusable components with easy code, allowing you to copy and paste blocks to create the page you desire in minutes.
PWA – Progressive Web Application Ready
Add Azures to your Home Screen and enjoy it lie you would a native application. A gorgeous user interface that looks and feels like a premium native application.
Stunning Light Mode, Gorgeous Dark Mode
Azures remembers your choice for your next visit, if you select dark mode or light mode, you'll still enjoy the best mobile user interface and mobile user experience possible.
Reusable, App Styled Components
We gave birth to the concept of App Styled components, now, with Azures, we're taking it a step further with Azure's Incredibly Powerful Mobile Kit
Ad Boxes
Ad Show on Scroll
Ads with Timers
Add to Home Banners and Badges
Accordions
Action Sheets & Action Modals
Auto Dark Mode
Buttons & Icons with tons of Styles
Back to Home Badge and Icon
Charts & Graphs powered by charts.js
Chips
Cookie Boxes and Consent Boxes
Cards with Gradients, Solid Colors or Background Images
Color Packs with Examples
Contact Form – Functional with AJAX
Collapse / Dropdown Elements
Dividers
Disqus Comments Integration
Emoji with Unicode
File Upload – Web API integrated
Facebook Comments Integration
Geolocation – Web API Integrated
Google Fonts – 600 to choose from
Header Styles with Badges and Multiple Layouts
Footer Bar Styles with Badges and Multiple Layouts
Gorgeous and Awesome Header & Footer Shapes
Image Effects on Tap – Scale, Grayscale, Blur
Images Preloaded & CSS Backgrounds Preloaded
Link Lists with Badge and iOS/Android Switch Support
List Groups with Icons and Multiple Styles
Notifications Styled like iOS, Android and Bootstrap
Notification Alerts Large or Small with or without Icons
OS Detection – show content based on iOS or Android
Online & Offline Detection and Banners
Quotes and Review Elements
QR Code Generator or pre-generate for your existing page
Pagination styles enhanced from Bootstrap
Preloaders with multiple styles and colors
Pricing Tables with multiple styles insertable in Carousel/Slider
Reading Time Calculator – estimated time to read page
Snackbars & Toasts, with multiple styles and designs
Sliders and Carousels, powered by enhanced OwlCarousel
Social Sharing with automatic link adding from the page you share
Search System, functional with any element finding options
Tabs designed like iOS and Android pills
Tooltips for hovering to get extra info
User Lists & Groups with multiple styles
Working Hours – fully functional
Vibrate API integration for Android vibrate on tap
Media – Take your Images and Projects to Mobile
Azures media elements are created so you can integrate any design you want into your mobile while retaining the beautiful feeling of touching your work.
3 Gorgeous Widescreen Galleries with Captions and Different Styles
Views Gallery – Select between 1, 2 or 3 columns per view
Filterable Gallery – Select the category you want to see in the gallery
Rounded & Squared Thumbnails – with captions, borders or polaroid effect
6 Elegant Portfolio in One or Two Column Styles with captions, buttons, icons and different styles
Selected Portfolio/Project Item with Examples of Content ( can use any component )
Instant Portfolios – Similar to Facebook's or Google's Instant Articles on Mobile
Pages – Esential Pages designed to feel like a Native Mobile Experience
About Us
Careers / Jobs
Calendars & Schedule Box
Chat / Message Bubbles
Cover Page
Contact Page – Fully Functional
Coming Soon
404 Page – 2 Styles
Event Cards & Event Details
Frequently Asked Questions
Instant Articles
Sign In / Login – Classic Screen
Sign In / Login – Background Screen
Sign Up / Register – Classic Screen
Sign Up / Register – Background Screen
Full Screen Map
Maintenance Mode
Timeline – Center Items
Timeline – Left Icon Style
Profile Classic
Profile Instagram Style
Profile Edit/Admin View
System Status
Todo Lists
Task Lists
Task Progress
Under Construction
Terms of Service
Wallet / Finance Page
Starters – Gorgeous Walkthroughs & Splash Screens
Azures comes ready with Starters and Walkthroughs, to give your users a gorgeous first impression and first visit to your page.
4 Unique Splash Screens with Images, Icons or Classic Simple Buttons
4 Unique and Versatile, multiple screen walkthroughs powered by a carousel to swipe to your next step
Azures is a Mobile Kit for Everyone
Packed with a incredibly friendly documentation, covering the entire feature list step by step and line by line to offer you the best and easiest integration to your project. Azures is designed and coded for even the most novice of users to enjoy!
Azures Powerful API & Programmatic Calls
If you're a developer, you will love Azures. Powerful programmatic calls for Menus, Action Sheets and Modals, Snackbars and Toasts with multiple, powerful options that are explained in detail in our documentation to help you integrate Azures into any project you need. Our customers converted Azures to WordPress, Laravel, Droopal and other powerful CMS'. The code is classic, gorgeous and easy to use and understand and customize.
Azures is packed with the Best Support in the World
Enabled is renown on the marketplaces for providing the fastest and most hands on Support Possible. We are absolutely always here for our customers, even for the smallest question you may have! You can count on us!
Updates
Version 2.3 – 5th January, 2021
Thank you for your feedback! We've added 10 new content based pages for News, Blog or other copywriting necessities.

Content Copywriting - News & Blog Pack
- Added - News / Blog Homepage - 4 Versions
- Added - News / Blog Article Styles - 4 Versions
- Added - News / Blog List Style
- Added - News / Blog Card Style
- Added - News / Blog Grid Style

Version 2.2.2 – 16th November, 2020

- Bug Fix - Optimized Sidebar Navigation listings. 

Version 2.2.1 – 7th October, 2020

- Bug Fix - Fixed an issue with Sidebar Close icon not working

Version 2.2 – 2nd August, 2020
Thank you for your feedback! We've added 20 new pages based on your suggestions!

Finance Pack
- Added - Finance Homepage - 2 Versions
- Added - Finance Dashboard
- Added - Finance Transactions List & Details
- Added - Finance Cards Page and Add Card
- Added - Finance Exchange Page
- Added - Finance Invoice Template
- Added - Finance Goal Progress
- Added - Finance Wallet

Commerce Pack
- Added - Store Homepage
- Added - Store Product - 2 Versions
- Added - Store Cart - 2 Versions
- Added - Store Checkout 
- Added - Store Invoice and Invoice List
- Added - Store Categories
- Added - Store Invoice Template
- Added - Store Action Sheets, Toasts and Snackbars

Version 2.1 – 22nd June, 2020

- Updated - Upgraded to Bootstrap 4.5
- Updated - Better structure for style.css and bootstrap.css

Version 2.0 – 14th May, 2020
Azures is the most loved and best selling new release in the mobile category on the market, and we always listen to your feedback. Customers suggested we add Azures in Bootstrap, and so we have! Starting with version 2.0, Azures is running Bootstrap 4+ with a tone of new awesome features!

- Global - Bootstrap 4.4 Integration
- Global - SCSS structured files included
- Global - RTL and LTR Versions Included
- Added -  3 Different Header & Footer Shapes
- Added - Remember Color Highlight, Background and Light or Dark
- Added - Unicode Emoji and Tooltip Tap Support
- Added - Link Groups with Switches or Badges
- Added - Header & Footer Badges
- Added - Preloading for CSS Background Images
- Added - Skeleton/Border Button and Icons
- Added - Badge & Switches to List Groups
- Added - Programatic Bootstrap Calls for Snackbars, Toasts, Notifications, Sidebars, Modals and Action Sheets
- Improvement - All Pages & Components are now Bootstrap Built
- Improvement - All Columns Replaced with Bootstrap & FlexBox
- Improvement - true/false - enable disable PWA & AJAX system
- Improvement - PWA Clears Cache Automatically
- Improvement - iOS Friendly CSS for Notch Support
- Improvement - Completely Revamped Documentation for Better and Much more Detailed Instructions

Version 1.0.3 – 7th May, 2020

 - Fixes - In some users trying to open external links caused the page to refresh. 

Version 1.0.2 – 12th February, 2020

 - Improvement - Re-uploaded main zip, some users couldn't download. 
 - Fixes - Checkboxes in FontAwesome Updated and Upgraded

Version 1.0.1 – 22nd January, 2020

 - Improvement - Improved Header Design on Notch Devices. 
 - Improvement - Updated pwa.js & _manifest.json file