Daily Cooking Chart Reminder
Daily Cooking Chart Reminder will help to Remind, What you need to cook each time for the whole week.


This app will help to everyone who wants to follow the diet chart as well as create a fixed schedule for the whole week 3 times a day and custom chart.
This app will help you to create a cooking plan for each day and all the times because it has dynamic features to Add your own time and detail with titles, You can do it from home screen with Others.
This is a one-time setup for the whole week also you can add/remove new cooking items whenever you want. Set your own flexible cooking time.
It's simple and easy to use show on home what you need to cook Today.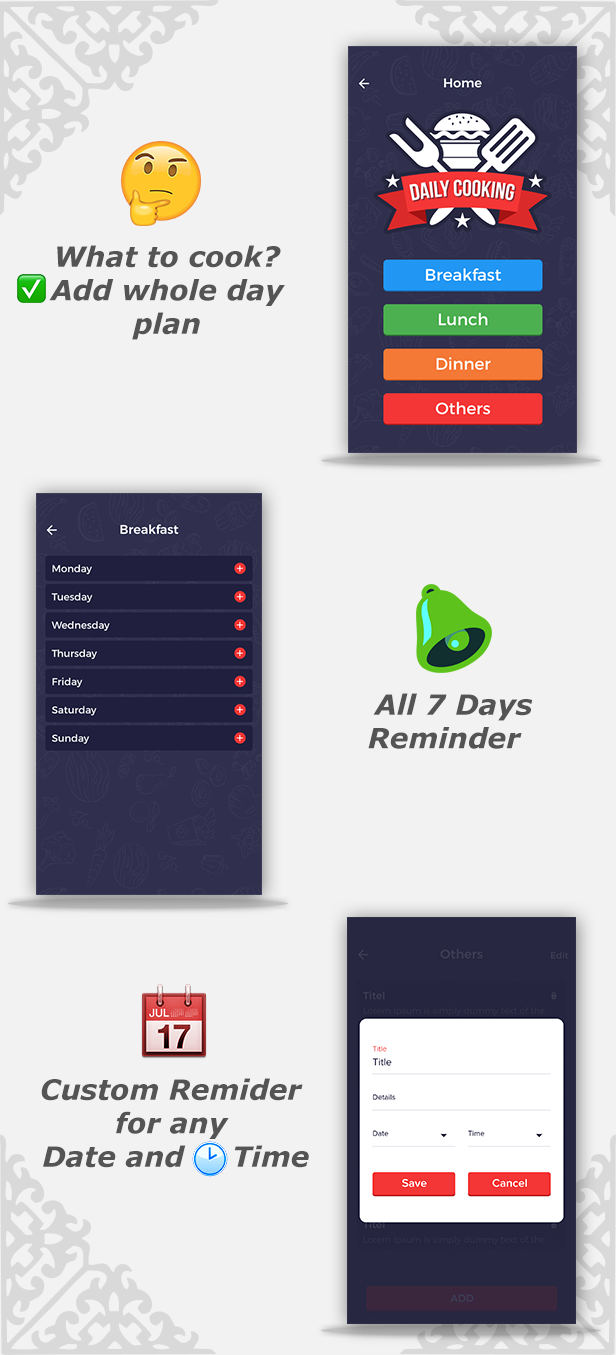 1. Easy to customize graphics just make similar size and replace it
2. Admob added also you can easily change your ad-id

3. No back end api require at all
4. Full documentation with screenshot, Fast Support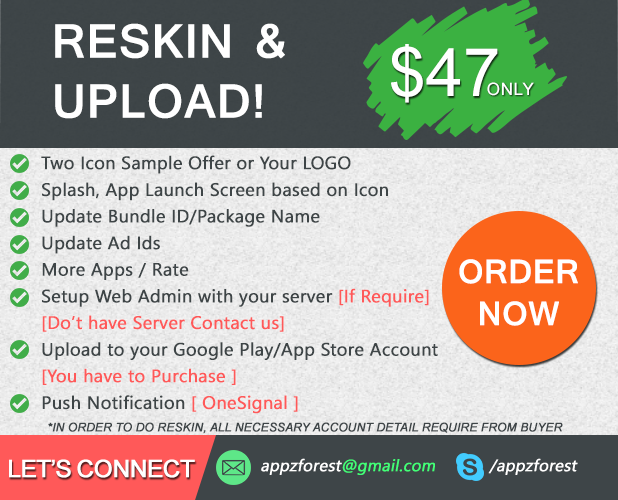 Support notes
Support from Envato authors is optional but we will do our best to help.
Support doesn't mean customization.
Read the full documentation file.Check if your question is not already in the Item Discussion section.
We do not give support for third party code in this case you need contact the authors.
We do not support errors caused by strong modification to the original files.
We do customizations but this is not included in the package price. To get a quote for a modification you can send an email using the form in the right sidebar.
We can't teach how to code in Objective-C, C++, Java or any other language.
We can't give refunds, if you want a refund please contact Envato directly.
If you have a general question you can use and asking your question in the Item Discussion section.
Our time zone is (currently) GMT+5:30, so please keep in mind our timezone might be different from yours.
Last Update:
December 12, 2019
Created:
November 15, 2019