Description
PHP FORUM SCRIPT
BUYERS ONLY FORUM
Protect your Support Forum from users without a (specified) purchased product from your ENVATO (Codecanyon / Themeforest) Account. Give it a try! Right now!
WHAT'S NEW?
This is a plugin for the esoTalk Fat-free forum software. Please ensure you have installed the latest version of esoTalk before using this plugin.
All this comes with the last Version — take a look at the Changelog
LIKE WHAT YOU SEE?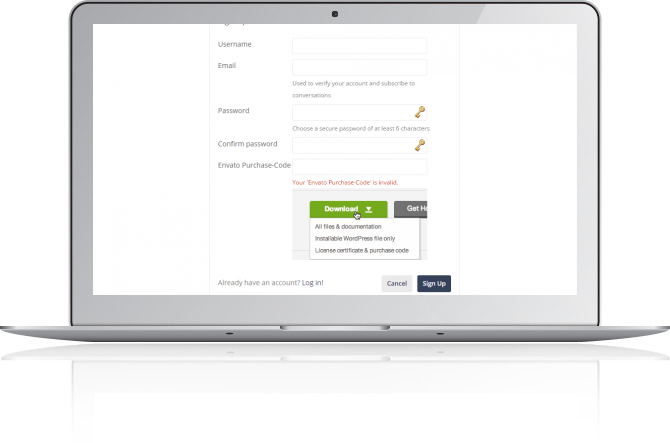 WHAT IS IT?
Forum with Plugin to check Validate Purchaser of Envato a License! 
This plugin allows you to interact with your buyers in one way. It only allow registration for valide purchasers of an envato product, so it significantly improves your after sales support and customer satisfaction. 
Through the use of this plugin a long with your esoTalk Forum you can provide customers access to a complete Forum for your Support. 
Customers can register only with there purchase code to their account allowing them to post support questions. As an Admin you can then see only real customers (item purchased) in your Forums.
KEY-FEATURES
1. Option: Only a user with valid envato product purchase code can register
2. Option: Only a purchase code owner of a special product can register
3. Option: Every purchase code can be used only one times
Manual file is included in Download
WHAT MY AMAZING CUSTOMERS THINK

SIMPLE SETUP
Envato Username
That's it… You are ready to start!!
REQUIREMENTS
PHP 5 or > is all you need!
HOSTING
This script does not make any use of special functions, so it will work in nearly every server environment. In case of any problems with specific hostings let me know immediately!
SUPPORT
If you run into problems please give me not a bad rate, please take a look at the documentation of the script. If you need more help, be free to contact me via the support tab. I will do everything so that my product deserves a 5 star rating! All updates are included. Remember that the script will be updated regularly.
Thank you very much.
Best Regards, adilbo
DEVELOPER
Do you want to customize my script as you want? Just purchase the Extended License and shoot me a message from my profile page to let me know how you're using it. Thanks!
HINT
Please take a look at my other scripts on codecanyon.net
Changelog

Version 2.0 (16.12.2020)
        IMP -  We offer a Version of esoTalk that is updated and runs with PHP7
        IMP -  Update the Plugin to the new ENVATO API !!!


Version 1.2 (25.03.2019)
        ADD -  Options to allow only one Registration with one Purchase Code
        IMP -  If Plugin is activ the Purchase Code is a Required Field
        IMP -  Some Small Code Improvements


Version 1.1 (20.03.2017)
        ADD -  Options to allow only a special Item ID owner to Register


Version 1.0 (18.03.2015)
        NEW -  First Release of this esoTalk Forum Add-On on CodeCanyon