Responsive Grid Quote & Testimonial for WordPress
This plugin help you to add a responsive grid gallery with subview to your post or page, you can customize it to a team member, customer testimonial or something like word of the day gallery.
Features
Support all the 629 Google font families.
Live preview in the backend, help you to update the content easily without touching the code.
Optional cover size, optional font size and color of the cover.
Support multiple upload, let you update covers quickly.
Responsive, works fine in the small screen.
Quote content support HTML, for example you can put YouTube or Vimeo video in it.
Compatible with latest jQuery(1.10.x) and latest WordPress.
Multiple Grid Quote Instance on same page.
Enqueue the js and css only when needed. Keep WordPress page size smaller.
Auto delay slideshow.
FAQ and source code are included in the package. Free update in the future.
Recommendation for you
Image Map HotSpot WordPress Plugin: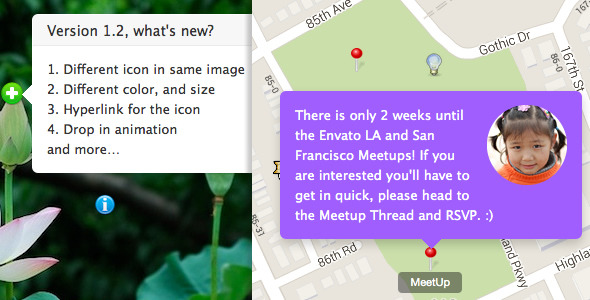 Update
22 November 14 - Make it works with WP4.0, make it compatible with WP_DEBUG set to true. Fix js bug in small screen view.
Credit
jQuery http://jquery.com
Last Update:
November 21, 2014
Created:
October 26, 2013